Canada's official summer sport

May 17, 2021
2021 Burnaby Field Lacrosse Club – Devils – AGM
The 2021 Burnaby Field Lacrosse Club (Burnaby FLC) Annual General Meeting will take place June 23rd, 2021 in the form of an online AGM via Zoom software.
Please join your 2020 Executive for a year in review, an update on our upcoming season, and the election of a new Executive. At this time, no new changes to the Club Operating Policy are being considered.
The Club is once again in need of volunteers to ensure our programming can continue into the years to come. The roles that must be filled with an election at the AGM are:
Vice President 2 year term
Secretary 1 year term
Club Head Coach 1 year term (volunteer, non-voting)
Director-At-Large 1 year term (3-4 positions – voting)
Representative for the female divisions.
With regards to the Executive positions:
The Burnaby Field Lacrosse Club Executive Board meets once a month, every month throughout the year. Each meeting lasts no longer than 2 hours. We are a working Executive, fulfilling volunteer roles as needed.
Coaches for the upcoming season, please have one representative from your team attend the AGM.
The full AGM details are as follows:
Date: June 23, 2021
Time: 7 pm
Location: Zoom video conference software
(this will require internet access and a microphone/video camera)
Attendees will be placed into a meeting lobby from 6:30 pm onward and we will do our best to open the meeting at 6:50 pm. Attendance will be taken and anyone that does not identify themselves as requested or is not a club member will be removed from the meeting.
Questions can be directed to Simon Gee.
We hope to see you there.
On behalf of the 2020 / 2021 BFLC Executive,
Simon Gee
President
Burnaby Field Lacrosse

April 26, 2021
BCLA Field Lacrosse Spirit Champion Award
Congratulations to Brad Romano for being the Burnaby Field Lacrosse Club's nominee to win the award!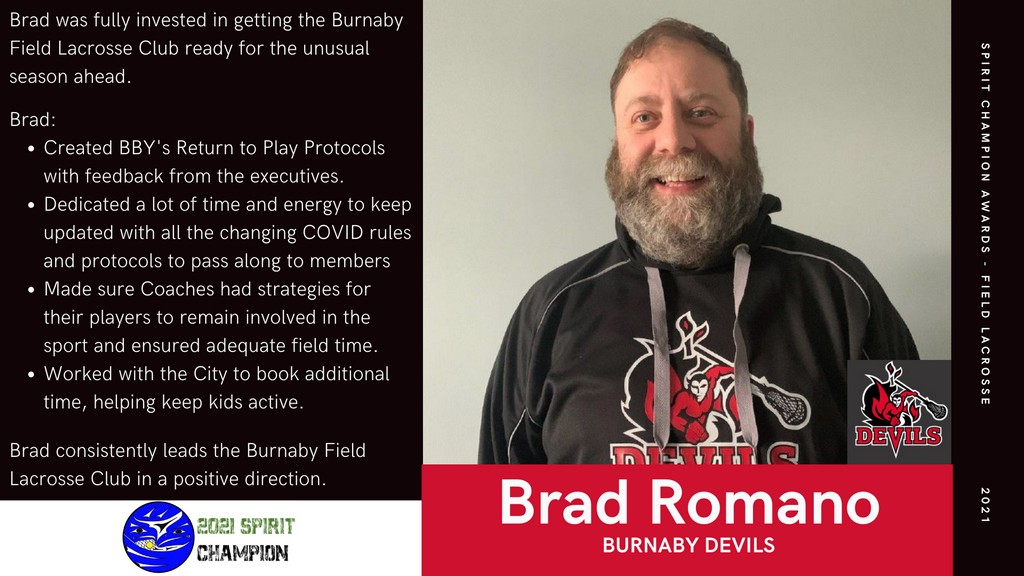 February 25, 2021
Indigenous Youth Sport Legacy Fund
The Aboriginal (now Indigenous) Youth Sport Legacy Fund was created to assist amateur athletes of Indigenous ancestry, including athletes with a disability or disabilities, in their pursuit of excellence in sport. The grant seeks to relieve some of the financial costs associated with high performance sport, including registration, travel, equipment, and coaching expenses. Grants are awarded to athletes competing in any sport, with priority given to athletes participating on provincial teams, national teams, and/or in any regional, provincial, or national tournaments and competitions featuring Indigenous participants (i.e. North American Indigenous Games, All Native Basketball Tournament).
Applicants are able to apply for a grant between $500 and $2,000 for expenses incurred between April 1, 2020 and March 31, 2021 depending on their level of eligibility. Please refer to the following link for grant guidelines and the levels of eligibility.
https://www.viasport.ca/grant/Indigenous-youth-sport-legacy-fund