Devils Player Development Camp for Youth Divisions During Tiering Break
What:  Devils Player Development Camp
Who:  Youth Divisions, U7, U9, U11, U13, U15 & U18
When:  Sunday, October 31, 2021, 11:30 am – 4:00 pm
Where:  Home Field (#3)
Burnaby Field Lacrosse Families:
This weekend is the tiering break so there are no games scheduled for the Youth (boys) divisions. Games will continue for the Women's divisions.
Ty Yanko, our U18 Head Coach, with support from your respective team coaches, will conduct a Players Development Camp during our normal Sunday home field time.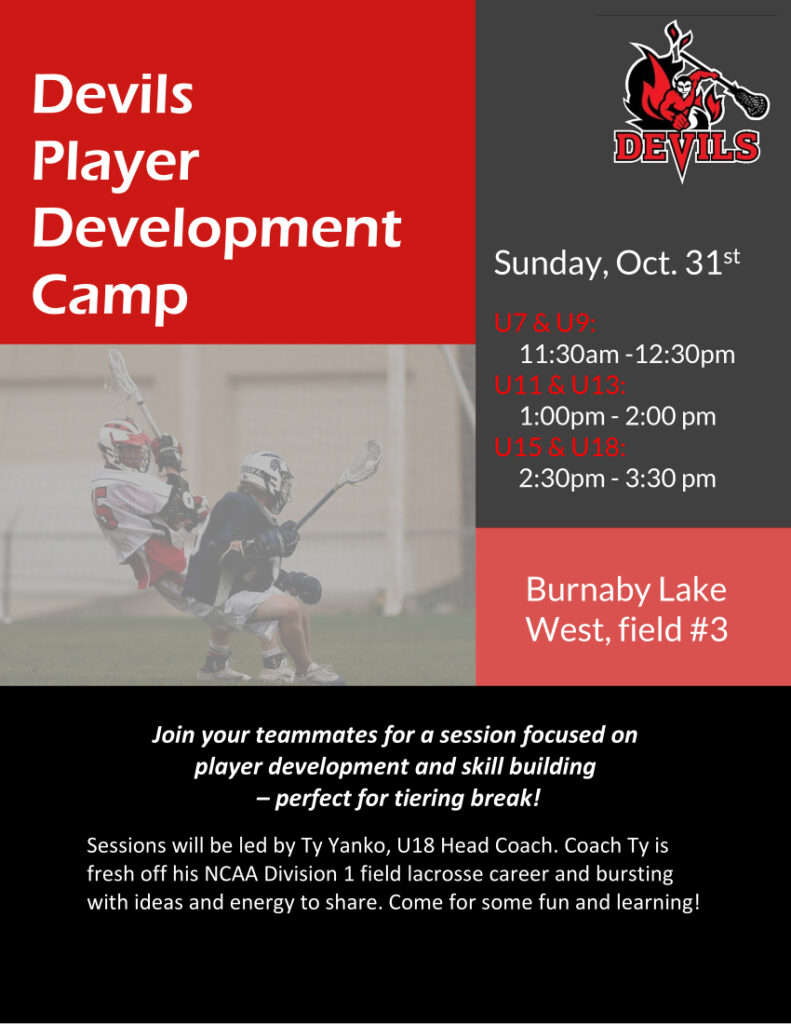 Devils Day/Photo Day is Tuesday, October 5th
What:  Devils Day & Photo Day
When:  Tuesday, October 5, 2021, 4pm-9pm
Where:  Home Field (#3) and Meeting Rooms 1 & 2
Burnaby Field Lacrosse Families:
Tomorrow (Tuesday, October 5th) is Devils Day and Photo Day. Player, team and officials (referees/umpires) photos will be taken. Please remember to bring your jerseys, sticks and gloves. Officials please also bring your uniforms. Practices will still take place for those teams that normally practice on Tuesdays.  Refreshments (pizza, chips, juice) will be provided to all teams (players, coaches, managers) and officials following their photo session.
Team Photo Schedule
6:00 PM U8 Women's
6:10 PM U11 Youth
6:20 PM U13 Youth
6:30 PM U18 Youth
6:40 PM U9 Youth
6:50 PM U5 Youth
7:00 PM U7 Youth
7:10 PM U12 Women's
7:20 PM U15 Youth
7:25 PM U15 Women's
7:30 PM Referees (group photo only)
7:35 PM Executive (group photo only)
Clothing Sale
A limited stock of Devils apparel, including shorts and socks, will be available for purchase. Cash and e-transfer accepted only.  Pre-orders for other Devils clothing will be taken.  Please note we have several new items (e.g. umbrella, sweatpants, crewnecks) this year.  Please stop by the clothing table to check it out.
Coaches Clinic
Ty Yanko, our U18 Head Coach, will conduct a coaches clinic for any Burnaby coaches who wish to attend during the normal U18 practice on the field from 6:30-8:00pm. He will demonstrate drills and exercises he likes to use and may be able to make some suggestions on how coaches can add these to their practices.
See you all there!

National Day of Truth and Reconciliation, September 30, 2021
In observance of this important day, the Burnaby Field Lacrosse Club has asked the teams choosing to hold practices this week to take the following actions:
     Land acknowledgment

We [I] would like to begin by acknowledging that the land on which we are fortunate to gather is the traditional and unceded territory of the Coast Salish peoples, including the territories of the Musqueam, Squamish, and Tsleil-Waututh Nations.

2.       National Day of Truth and Reconciliation

As you may or may not know, lacrosse has its origins in a tribal game played by Indigenous peoples in what is now Canada and the United States.  While hockey is Canada's national winter sport, lacrosse is our national summer.

National Day for Truth and Reconciliation is an opportunity for us to recognize and reflect on the tragic history and ongoing legacy of residential schools, and to honour the survivors, their families and communities.  Recent discoveries of the remains of children at the sites of former residential schools affirm what Indigenous peoples have been speaking about for decades.  This grief and loss continue to impact the lives of Indigenous peoples and their families.  Every child matters.

3.       Minute of silence and reflection

Please ask your team to take a minute of silence to reflect on the significance of today.
     Encourage wearing of orange shirts

Please ask your team to wear orange shirts if they have them.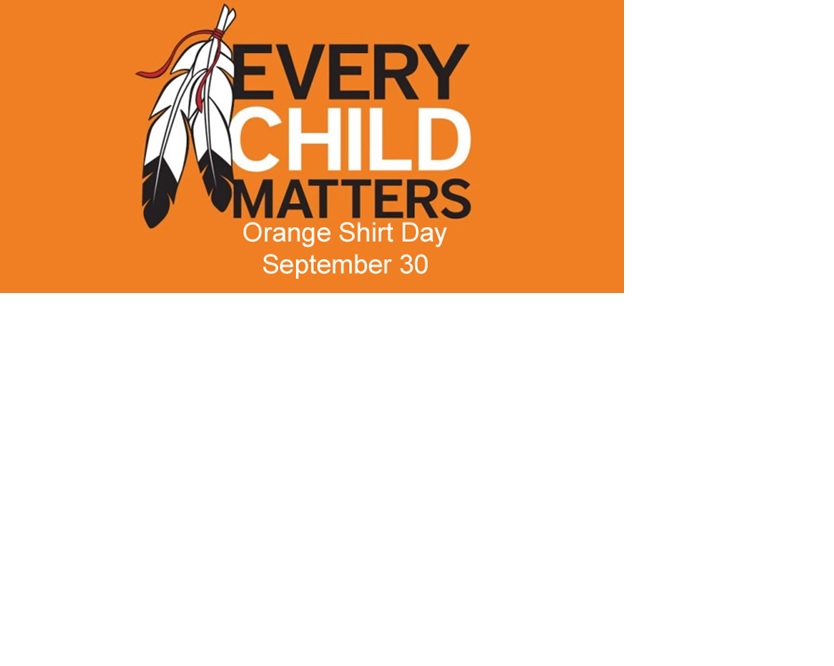 July 14, 2021
Hi Field Lacrosse Families,
Registration is now open for the 2021/2022 field lacrosse season. I know you are all excited to get your kids on the field and the Burnaby Field Lacrosse Club (BFLC) welcomes you back!
The first practice will be on Tuesday, September 7th, for those teams practicing on Tuesdays and Thursday, September 9th, for those teams practicing on Thursdays. Games are planned to start on the weekend of September 18th/19th.
Currently, the plan is to start with no restrictions to practices or games.  This is dependent upon COVID-19 infection and hospitalizations rates remaining low.  Updates can be found on the links below as they become available:
https://www2.gov.bc.ca/gov/content/covid-19/info/restart#step-one
We are maintaining registration fees at the affordable 2019 rates for this season. The fees can be found on our website at www.burnabyfieldlacrosse.ca. Register before July 31st to get the early bird rate! Again, this season the club is only accepting Interac eTransfers for registration fee payments.
The Club is always in need of coaches. Both returning and new coaches are encouraged to apply using our Online Coaching Application Form at:  https://go.teamsnap.com/forms/277340.
Questions/Volunteer Opportunities:  info@burnabyfieldlacrosse.ca.
Registration-specific questions:  registrar@burnabyfieldlacrosse.ca.
We look forward to seeing everyone at the field in September.
On behalf of the 2021 / 2022 BFLC Executive,
Simon Gee
President
president@burnabyfieldlacrosse.ca

July 10, 2021
Registration is open for the 2021/2022 Season!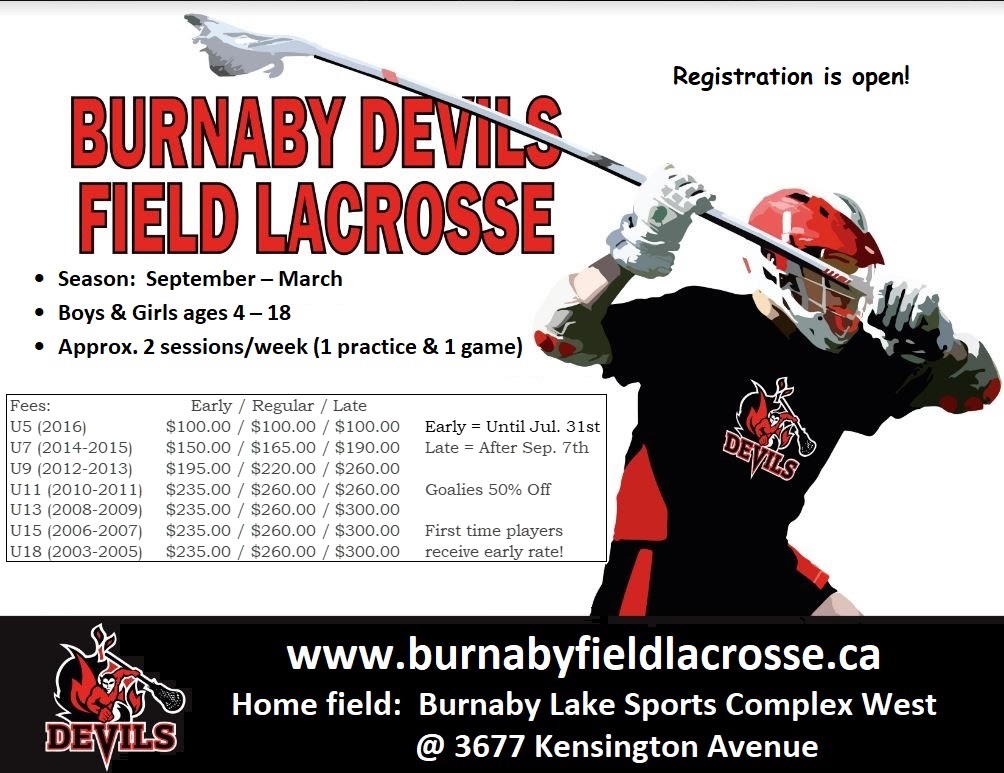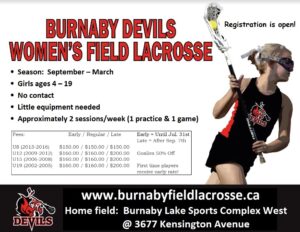 Nothing is as fulfilling as doing some volunteer work. Your commitment can be as little or as much as you have time for.
Here are the latest standings and schedules for the Pacific Coast Field Lacrosse League (PCFLL).